In February I helped out with Benton-C and Chris Jordan on another One Step Beyond party at the Natural History Museum.




Lots of fun toys to play with.




I was lucky enough to go G33k Xmas.




I ended up with the Discman.




Mountains of memory.




In March I helped Andy Wolf with the audio portion of his thesis installation. We discussed ideas and types of gear needed to do certain things. I modified this beautiful old ham radio microphone with lots of buttons to just be simple microphone without buttons.




I also taught Andy to solder




and we made a really nice 3 headed content mic. I am excited to check out the final piece this Tuesday when I see the starving artists canned food drive. Its up till the 3rd so be sure to check it out!




I etched some Weird Sound Generator circuits in Brooklyn for the Alchemy installation. This is the first time Colin or I have ever etched a PCB to be used for its actual intended purpose.




The set up, before.




The set up, after.




Finished!




And this is my desk.




The drilling machine pictured here is Colin as he drills around a 100 tiny little holes into the 3 boards. Making these boards is the most professional thing Colin and I have done so far.




I had my first solo visuals show at the Alfa Art Gallery March 12th. All these photos were taken by Natalie Trainor, who also curated and organized the show. This band is Sugar Glyder from NC.




2 projector set up.




RGB




Sadly my camera died just as Terminal Reynaldo was getting started. They are great. I am going to be helping them film a music video in April.




I met Bjork! I arrived 2 hours early to an electronics workshop in SOHO and decided to kill time at my favorite cafe/used book store Housing Works. Then Bjork shows up with her daughter and does an impromptu ipod dj set. It was magical. Anything you would imagine to be on Bjorks ipod is probably on Bjorks ipod.




RGB LED WRK SHP at Bug Labs.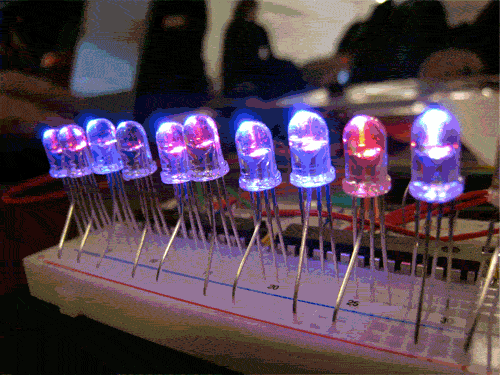 I made this happen




Went to Build It Green NYC and got all this lumber and a delivery for 35.00 total! The 2nd beam from the left came from a huge old ship and has spherical indentations in it. Hopefully we will start building rooms soon. I hear that walls and privacy are really cool things to have in an apartment.




Started work on the new Etch-A-Skletch a few days ago. 36 wires go to 36 points on the device.




Finished the case tonight. 36 wires go to 36 terminal strip connections. The hands have 18 contacts each and will be wired to the other side of the terminal strips.




The inside.




Close up.

All caught up...much more to come! Stay tuned.