In early November there was the Praxis/Poiesis show at Alfa Art. Curated by Jen Park and myself, it contained the work of Ariana Barat, Alexander Conner, Olivia Kaufman-Rovira, and Matthew West.



I helped Pete Edwards aka Casper Electronics teach a circuit bending course at Harvestworks.



Work on Bud Spotch continued. By the middle of the month we finally got an input signal into the TVs and spent way to much time in home depot looking at stuff.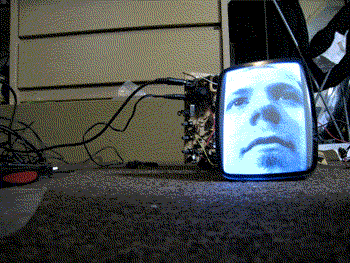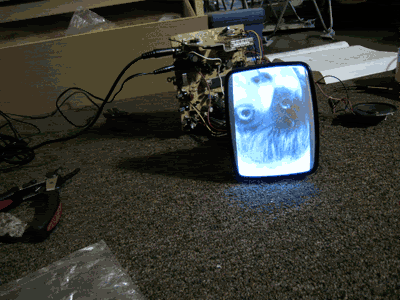 In October Eric Drasin invited me to collaborate on some live visuals for an experimental percussion ensembles performance at Monkeytown in Brooklyn. We had a simple goal of using hi-tech and lo-tech gear to make a complex network of feedback loops that could be controlled and manipulated with a laptop and physical objects. What that means is that I went up to Purchase with a car load of junk, multiplied it by a car full of Erics junk, combined that with Benton-C's sweetashell hacked video mixer, and finished it off with some fancy studio gear courtesy of PTV.

PTV studio



The first system



Second system



??? system



Final set up at Monkeytown (more junk outa frame)



This is the view of Monkeytown from the video booth. What was on screen was just some random videos they put on before the show




One day at Harvestworks I built an Audino, a synthesizer made out of 5 pots, some code and an Arduino.





To end November there was a huge push to finish Bud Spotch the TV Robot by December 2nd.





There was metal cutting with Dremels late at night. I would like to take a moment to honor the two unsung heroes of this entire project: clamp lights and rotary tools.



Inevitably Tom got a metal splinter



On a side note, Tom has a really nice terrarium



Finished the head and successfully attached it to the torso.



Colin stopped by and hung out in the chaos



wiresssss



Testing out the bottom shelf with 2 TVs



Installed the first TV which had to be mounted upside down. Both middle TVs had to be hung upside down to make room for all six circuit boards. Logistically a nightmare. Aesthetically, pretty rad.



After we installed the top middle TV we attached the head to the torso because we werent sure if we were going to be able to put it on again after all the TVs were mounted.



Then we installed the bottom middle TV. It was much more difficult than the top because we had to mount it into the plexi glass shelf. This was very stressful because we needed exact alignment for drilling holes and exact measurement to make sure it wouldnt interfere with top TVs. The drama was heightened even more because one bad drill or cut with the plexi and it would break.



Thankfully it actually went really smoothly.



Plexi is sexy



Installing the third TV



And the 4th



At this point it passed midnight and officially started December. To be continued....